November 19th, 2013
---
10:31 am - Tales of the Faithful -- The Parable of the Snot
And so it fell that a plague of shoggoths wast released upon the Promised House, and the Faithful were sore beset by the sneezings and the wheezings and the coughings-up of the treacherous snotbeastes. And in their duress did the Faithful snork and whistle their every breath, pointedly within the hearing of The Mom, as though to say "Lo; I cannot breathe."

And being a kindly Mom, did she Seize upon the eldest, and most fragile of the Faithful -- yea, even upon Sister Hilfy herself -- and did thrust her into the Box of Do Not Want, and thence, by many lurchings and rumblings, and with much wailing and gnashing of teeth, didst convey her into the hands of Those Who Deal In Feline Torment, saying "Lo; this cat cannot breathe."

And then did the chief tormentor smile the smile of many teeth and little pity, and didst take Sister Hilfy into the Depths for prickings and probings and indignities many and various, and not satisfied thereby, didst send back with the Mom instructions that the torment must further continue even within the fastness of the Promised House, for the Shoggoths were a tenacious evil, and might only be exorcized with suffering.

"Lo, you must set a Dosing for her in the presence of her kin,," quoth the Tormentor, with expression most evilly sympathetic. "For thy pill and thy liquid shall comfort her... sort of. Twice a day, for about two weeks. And then we shall see about more."

Alas, and woe.

And woe.

And more woe.

And still more woe.

And, after a couple of days, slightly less woe, but still plenty of resentment on the part of the venerable Sister Hilfy, who loved not the Box of Do Not Want, and whose knees were ouchy thank you EVERso, and who took particular care that The Mom might know the extent of her sufferings.

And oh yea verily, did The Mom fucking know.

And yet the shoggoths were not defeating themselves, and even over the Song of Woe could be heard to muster and loom, and whistle their battle cries of Tekeli liiii from the sinuses of the Faithful, and so it was unto the Dosing that The Mom didst turn.

And the Pills were quartered, the squishy pockets therfore procured, and the eyedropper was filled, and thus armed did The Mom set about The Medicating of Sister Hilfy. And the battle was fierce and long, and much drool was flung, and many claws were slung, and many bribes were utterly scorned, and much medicine was slobbered all over the goddamned patch, but in the end, the liquid and the pill were ingested.

And the Bitching and the Moaning were the first day.

And thus did the battle continue for days; Sister Hilfy steadfast in her refusal to partake her of any goodly thing, and to fight with surprising strength and viciousness for such a skinny little Seniorcat, The Mom steadfast in her resolution that, goddammit, this cat was GOING to get better, and The Dad in the awkward position of agreeing with the both, yet conscripted to Afflict The Indignities because Sister Hilfy is His Goddamned Cat Dammit. And thus might he war have sailed blithely on, had not the Shoggoths marshalled an offensive upon the very instance of The Medicating one morning, resulting in an immediate and voluminous return of all medications, propelled by such copious snot as might have called for the making of an arc, had there been any decent warning.

And in conference and sober contemplation whilst mopping up, (Lo, so much mopping up...) did The Dad and The Mom decide that this just was NOT damn well worth it. And the Tormentor was called, and The Medication was altered, and The Mom didst decide that The Pill was just not happening, and thus was a seeming peace dealt out upon The Promised House... sort of.

For still was there The Liquid to administer, yea upon each and every day. And still was Sister Hilfy, as ever, THE most pointlessly stubborn of creatures ever to set paw into paint and run throughout the house (but that is another parable.) And so did The Medicating become like unto a duel each and every day, The Mom winning each match by way of superior size, opposable thumbs, and a certain pitiless determination common to Mothers everywhere when the good, if not the preference, of Their Faithful is at stake. Though Sister Hilfy, never caring to have a way not her own enacted upon her, didst ever make things as difficult for all concerned as possible.

Unto this very morning, when, syringe loaded, did The Mom approach the Radiator of Battle, whereon did Sister Hilfy lie in grumpy repose, and displaying her weapon, did shout her battle cry of "Okay, sweetie, it's that time." And seizing upon Sister Hilfy's skull, didst lift her face from out of hiding, and prizing open her fierce-clenched teeth, didst poke the syringe deeply in and squirt The Dose far to the back of any bud of tasting, the better that Sister Hilfy might simply swallow and Get It Over With. And holding Sister Hilfy's chin upward, didst gently stroke upon her throat, by way of a hint that she might better swallow than spit.

But Sister Hilfy the Contrary didst, as though in some strange Stockholm's Syndrome with the Shoggoths, didst struggle to lick the whole dose forward in her mouth, despite The Mom's holding-closed of her damned face, the better that she might taste fully of its awfulness, and commence to drool like a goddamned Newfoundland Hound -- and would not swallow. And The Mom did hold, and The Mom did stroke, and The Mom did murmur "You're only making this worse, you know," whilst weathering the most baleful of stares.

And Sister Hilfy did but whistle, and glower, and drool her medicine slowly, by trickles, out of the corners of her mouth. Until finally, half the dose lost beneath her chin, and dripping down The Mom's thumb, did she finally give up and gulp. Then released, did she flee the Radiator of Battle, and didst curse and grumble her lot, and plot her eventual triumph over The Medication, whilst The Mom didst hie her back unto the kitchen to clean her weapons and her hand, and her sweater, stating unto The Dad that, "Your cat is the most pointlessly stubborn creature EVER."

And in reply quoth The Dad, "Well yeah... Hilfy." The which being simple truth, The Mom hadst no cunning reply.

And watching over The Promised House from the Fair Fields of Napping In Comfy Laps, didst Brother Godric drink of the water of whatever he bloody well wanted to and know plenty, but trouble himself for nothing.

This entry was originally posted at http://cluegirl.dreamwidth.org/1488988.html. Please comment there using OpenID.

October 11th, 2013
---
09:08 am - Ouch... this is gonna hurt.
We just got the estimate back from the builder we're hiring to work on Mandala House.

The work we need to do *before* winter, the preliminary work of bracing the porch roof, and pouring new piers so that this time the porch will be supported correctly, will cost us in the neighborhood of $7,000 - &10,000, depending on timing and weather conditions. Mind, this is money we have to find and spend BEFORE we can even refinance the house, and get the funds to do the rest of the work.

Yes. There will be a kickstarter/indiegogo. We will also possibly be selling my car, and some of our furniture, if we can find buyers. Tarot drives, some small craft commissions, recipes with donation buttons attached, things like that too. There's a hard deadline here of getting the work done and paid for before it gets too cold for the concrete to properly cure, and THAT is the biggest draw-up we're facing here. Not getting the money, but getting the money in time to have the work done.

In the meantime, here's a link to my tarot layout options, and a paypal button with the prices on.



And, another way you can help, is to pick up a copy of my book: A Thing of Rags and Patches Or, if you already have your copy, to go out to Amazon, or to Goodreads, and to review it. Or to review it on your blog, and shill it to your friends. Any of those will help put nickels into the 'let's stop Clue's house from falling down' fund, really. Just get the word out, keep it out, and maybe I'll be lucky enough to find the resources we need to get on top of this in time.

Clue out.

This entry was originally posted at http://cluegirl.dreamwidth.org/1484895.html. Please comment there using OpenID.
Current Location: Mandala House, Atelier

October 9th, 2013
---
04:44 pm - What I'm doing instead of writing today.


So at one point in my life, I remember asking myself "How cool would it be to make a gorgeous double breasted longcoat entirely out of patchwork? I could totally do that. Use up my scraps, make something unique, enjoy it... how hard can it be?"

Stop laughing.

The answer is, not. As in, it's not 'hard', per se, it's just complicated, fiddly, time-consuming, and strangely meditative work. Hard on the back, given that I'm not working over the table (which is covered with construction/repair supplies at the moment) and somewhat boring to my wordbrain, but it's damn hard to read while wrestling with fabric, pins, shears, and piecework scraps. That way lies Rule 1 infractions, and no thanks to that.

I do have to say, it's going to be a gorgeous coat once I finish it though. So far I'm averaging a day of work per piece of the coat, but that's just the patchwork. Assembling the thing, finishing seams, adding pockets, collar, maybe lining it, and, -- oh dear Athena save me from my own folly -- making approximately sixty buttonholes will take considerably longer. Double breasted looks cool, you said, and, it'll be worth it, right?

Anybody asks me to make a copy of this coat for them, I'm gonna set the asking price at approximately the down payment of a new car. That's the only way I'd get anywhere near minimum wage on it!

This entry was originally posted at http://cluegirl.dreamwidth.org/1484489.html. Please comment there using OpenID.

October 3rd, 2013
---
10:35 am - Deeeeep breath. Okay.
So. As you all know, I live in a very old, gracious, beautiful, and NEEDY lady. Mandala House is an elegant, sadly neglected Duchess, who has had more than her fair share of grifter tenants in the last half-century, alas. I respect the hell out of the fact that this house has been standing for about four times as long as I've been actually alive though, and so when I try and undertake a repair or improvement, I really do put some effort into making sure it's done right.

But I'm no Mike Holmes, and I'm also no Donald Trump. Dominus earns enough that under normal circumstances we live better when I don't work outside the house -- I do more cleaning, cooking, household management, family counseling and handyman repair than we could afford for the cost of such a salary as I could bring down, and that doesn't even begin to cover the incidental costs of the meds I'd need were I to add the stress of a boss and co-workers to my life in place of creative expression and output. Or the bail and lawyer's fees. Stupidity makes me mean -- it's a family legacy.

And all of that, combined with the utter fuckery of the Reagan/Bush legacy economy these days has meant that we haven't really been able to actually dig into the porch for real and figure out WHY it's slipping, sinking, and trying to slide off the house. We've needed to, but that's just not a project you begin on your own when you don't know what the hell you're doing. Not if you're smart. I am, despite the state of my CV, smart.

All that's leading down to this: I have finally, thanks to a local friend who called a friend, found the builder who we'll have redoing the porch. This morning was my second meeting with him, and I am so, SO glad to have him in my court that I can't even adequately express it. He respects the age and heritage of Mandala House, but he's willing to not only ask the hard questions, but to propose the hard, messy, complicated, potentially expensive, but correct solutions. Solutions that won't wind up with another owner staring, baffled under the porch in another fifty years and wondering WTF crack was I even smoking when I decided this was the thing to do.

This morning Simon came over again, crawled underneath the porch, dug around a bit at the foundations, and now we finally, FINALLY know why the whole thing's been slowly sinking into the soil. Guess why. No, you'll never guess why, because it's just so mind-bogglingly STUPID that NOBODY who understands basic physics would EVER guess why. So I'mma tell you why. It's because they didn't dig PIERS to rest the support columns on. They just set the whole thing on cinderblocks, which are in turn resting on a brick wall, probably ornamental when it was put in, and which is now crumbling to powder a little more with each rainfall and freeze. And THAT is why the porch is creeping off the house.

And THAT means we have to demolish the cinderblock wall, somehow while supporting the roof structure, dig holes for the piers, build them up to the right size and depth -- mind, this is all underneath the existing porch -- and commence from there to see what we can do about jacking the whole thing back up to true again. Without breaking any windows inside, or separating any of the floors from the walls.

What could POSSIBLY go wrong?

(Other than a few miles of cracks in the plaster, that is?)

And all this is before we even get the numbers we'll need to apply for the refinancing we hope will PAY for all this work. It's gonna be a bumpy ride, and we are going to be MUCH poorer when it's over. I'm going to be working along with Simon for the project, not only to learn what needs doing, but also to shave the cost of exactly one day-laborer off the cost of the project, but that isn't going to help all that much when it's all counted out.

So this is my announcement that I'll probably be running some kind of Kickstarter or Indiegogo campaign to try and help cover some of the costs. Fandom is an amazing collection of resourceful people, and producing fandom content is pretty much what I've done most for the past ten years, so it just makes sense for me to open that door as a way to try and make this repair happen.

My question to you, dear readers, is this: What do you want from me? Assuming you had the funds to donate to a crowdsourcing campaign, what could I offer that would tempt you to kick in? Readers of this blog know that I write -- poetry, fiction, and op-ed articles; I cook and create recipes; I draw and paint, but not at any reliable speed, though I do have a back catalogue of prints I could still offer; I sew, knit, and crochet at various skill levels; I sing, write, and record music; I read tarot and can do long-distance readings; and I am married to a very talented photographer who doesn't always have a lot of time for his craft, but who can be nagged into it on occasion.

The swag for Brother Godric's Charity Box was pretty straightforward -- he was always a charming little shit, and everybody loved him, so pictures and stories about the hero of the hour were an obvious choice. Figuring out what I can offer to entice people to help out Mandala House is a tricker thing, and I'd really like some feedback on it. What can I offer you? If you have ideas, I'd like to hear them. And if you're willing to shill this post out a bit so people who might otherwise not see it can offer their ideas as well, I'd be pleased to have that feedback too.

Thanks in advance!

This entry was originally posted at http://cluegirl.dreamwidth.org/1483464.html. Please comment there using OpenID.

August 19th, 2013
---
11:53 am - I am telling myself this is not the end of an era
Though there's every chance it is.

I dropped a big ball last night. I had the on-call rotation, but didn't know it because I'd entered the wrong date into my calendar. So I didn't take my phone up to my room to sleep, and so I didn't hear the hotline switchboard call. Hell, I barely heard the house phone ring when they tried that one, and thought the call had to be for Dominus, given his work situation, when I did hear it. Nope. We figured out what was happening, I called the switchboard, and was told that the backup had taken the ER escort to the hospital in Albany County that we are not actually supposed to be covering.

I fought off an anxiety attack for the next two hours, and woke up 3/4 of my way into another migraine -- my third this week.

So this morning I went down to the SACVAP offices and resigned. I have no idea how long it's going to take me to get my shit straight, but I do NOT need to be 'helping' people in crisis when I can't fucking function in my own right. I can't take the thought of dropping the ball like that when I might be the only one standing between someone and suicidal despair, or homicidal rage. The job is too important for half measures, and right now half measures are all I've got left. I'm going to ration them. I have to ration them, because I literally cannot afford the medical intervention it would take to get me square again if I let myself slide any farther down. Dominus' insurance coverage is some of the worst I've ever seen -- COBRA is better, and probably cheaper coverage, but the Corporate Cats are smoking the 'La la la, you geeks don't have a union, so we can play bait and switch with your employment compensation whenever we want to, and also we don't have to insure our overseas workers who all have socialized medicine so you should be glad we don't just chain you to your desks and make you like it' crack, and shy of cooking and eating every one of the bastards, there's not much to be done about it.

It's possible I might be a little bitter.
Also possible I might have a migraine right now. Oh, and high blood pressure too. Me. The one who had to warn surgical nurses that I run lower than normal. The one who used to faint when figure modeling, if asked to do a standing pose for longer than 20 minutes. I have high blood pressure -- not high end of moderate, but full on high. That's a definite sign of where the hell I am right now on the anxiety meter.

So yeah. I have no more room for rape crisis counseling. I might not have room for the fandom fests I've signed up for either, though I hope I'm wrong about that, because fandom is my only means of self medication right now, and I don't want to lose it altogether.

That happened, then.
Yep.

This entry was originally posted at http://cluegirl.dreamwidth.org/1479388.html. Please comment there using OpenID.
Current Location: Mandala House, Atelier

August 14th, 2013
---
08:19 am - For the 6 or so people still reading here; an update
Problem 1 -- [Unknown LJ tag]aquila_dominus needs to change jobs. The situation at his current place of employment is untenable to the point where serious medical issues are devolving directly from his working there.

Problem 2 -- We can't leave the NY Capital District. We are, thanks to Mandala House breaking faster than we can manage to get it fixed, underwater on our mortgage relative to the current appraised value of the property. All the damage is cosmetic, which is why we've been ignoring it in favor of actual, structural repairs, but it still means we can't get a mortgage refi for the amount we owe on it. Which means nobody else could, either.

Problem 3 -- Dominus is one of the leaders nationwide in his technical field (DB2 and Data Architecture.) He's regarded as a subject expert, and invited to present yearly at technical conferences all over the States, and sometimes abroad. Which means he's overqualified for nearly everything available here. And that's before we even approach the topic of salary.

Problem 4 -- I am generally unemployable in the US. I have worked only for myself for the better part of 12 years now, have no college credentials, no CV, and literally nothing I can offer on an application which would prompt so much as a gas station manager to call me for an interview. Go on; ask me how I know. I can contribute no cash to the equation that is our living situation, only time, intelligence, and resourcefulness. And that's all well and good for stretching a budget, but not so helpful for rebuilding a porch, or repainting the house.

Problem 5 -- The Business-nomad/consultant lifestyle is nearly as bad for Dominus' health as what he's currently dealing with. He's tried it. We know this for a certainty.

Ergo, we need either a lotto win that will drop enough on us to get Mandala to a stable, sustainable state of repair, at which point he can look at switching fields and doing less stressful if less profitable work, or he needs employment which will allow for him working mostly from home via teleconferencing.

*Cronkite voice* And that's the way it is...

This entry was originally posted at http://cluegirl.dreamwidth.org/1479071.html. Please comment there using OpenID.

August 2nd, 2013
---
12:33 pm - Points and waves.

miintikwa is doing a one-card draw. More cards, if you can scratch up the money for a donation as well. Speaking as a card reader myself, these can be a lot of work, and even the occasional $5 makes it easier to get through the lot. Especially since she's working toward an actual goal.

Spread the word!

This entry was originally posted at http://cluegirl.dreamwidth.org/1477871.html. Please comment there using OpenID.

August 1st, 2013
---
09:31 am
Happy Lughnassadh, Blogland!

This entry was originally posted at http://cluegirl.dreamwidth.org/1477558.html. Please comment there using OpenID.

July 17th, 2013
---
07:16 am
Still sneaking up on anything writerly. Apparently now is when I pay for my velocity on Traitor's Throne and my tenacity on Changeling. I didn't mean to burn myself out here, and I'm kind of upset that I seem to have done, but there's not much I can do but rest, and feed that part of my brain. Hopefully I'll get a story seed I care about before it's too late for the C-IM Big Bang. I really don't want to have to drop out of that one, but none of the ideas/plans I've had as of yet have really taken root at all, and I'm starting to get to the point where the frustration is far outstripping any good I'm getting out of my stubbornness and determination.

But I've been haunted by dragonflies lately, and those mean determination to me. Not entirely sure of myself here, but I figure a few days spent reading won't kill me. (Or in this case, it's been a few weeks of not writing, and that IS starting to really bother me a lot, but ehn. One does what one can and no more.)

AND SPEAKING OF WHAT ONE CAN (with considerable assistance,) DO...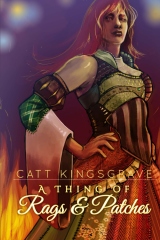 A Thing of Rags and Patches is LIVE!!! MUAHAHAHAHAAAA!

Only in dead-tree format as of yet, but it is NOW at last available. And the Kindle edition should be up within the week. After that, I'll get other formats up on Smashwords as well. (Don't want Amazon pitching a tanty over anything, so I want them to get their ducks in a line before I start orienting waterfowl of my own, y'see.

Anybody who's interested in reviewing, please speak up, and I'll send you an Epub file that

scifantasy was gracious enough to set up for me. (It's LOADS more readable than what I had previously.) Books on Amazon fly or fall on their reviews or the lack thereof, and anonymity is the kiss of death to the independent author who hath not a marketing department behind her efforts, don'tchaknow.

Yah. So that.

And also, my copy of the 2013 Rhysling Anthology arrived today. My poem Tit Tot is in it, and a candidate for the Long Poetry award this year. So there's THAT, too.

And I'm gonna go eat a thing now.
Cheers.

This entry was originally posted at http://cluegirl.dreamwidth.org/1475861.html. Please comment there using OpenID.
Current Location: Mandala House, Atelier
Current Music: Oberon -- by Heather Dale

July 12th, 2013
---
10:54 am - Social Animal Is Lonely And Bored. Talk to the Social Animal.
Y'all should see the bruise on my foot! It's about two inches across, and runs around the outside from beneath my ankle to the tendon for my third toe. My whole foot's swollen up on that side -- (and if you could hear me talking about this, you'd actually hear a kind of Hawkeye scar-proud glee in my voice about it, cause when you hurt yourself as often and as creatively as I tend to do, the bruises and scars are king of the best part of the whole deal.)

I'm still convinced that nothing broke though. Stepping on the outside of the foot only yields a grudging, muscle-based ache, not the stabby 'owfuckinquititrightnow' sort of pain that comes with a broken bone. Stairs, especially the going down thereof, are really the only challenging part of getting around at present. That ankle is untrustworthy right now though -- keeps trying to roll out from under me when I stand, or turn. But I've had enough of sitting around, so it's just gonna have to cope with things now.

On the good side though, last night was temperate and comfortable, and we were able to open up the windows and turn off the AC units. Sleeping without that constant, grinding roar was a delight, let me tell you.

Also; I have hit the button: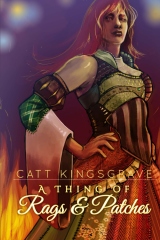 A Thing of Rags and Patches is now live. At present, the Createspace store is the only place you can find it, but within the week it will be available on Amazon.com/everywhere, and it won't be long before Smashwords will have several e book versions on offer too.



(

For those who are curious, here's the contents page.Collapse

)


I could REALLY use some reviews and reviewers once the Amazon site goes live. Amazon and Goodreads reviews are literal lifeblood for indie published books, and anthologies like this one have a hard time getting their feet under them to begin with. Anybody who's interested, please speak up, or e mail me, and I'll send you a gratis PDF of the book to read and review.

Also, shilling it about, or reviewing the book on your own blog is a great way to get its name out and about. I decided to self-pub this book because of how BAD I am at selling my work. I get horrible social anxiety twitches when I send things out to publishers -- if I didn't know Cecilia Tan personally, I probably wouldn't even have been brave enough to have got One Saved to the Sea published at all, in fact. What I'm good at is writing; crafting and telling an awesome story about people who make you care. I'm terrible at selling and promoting that kind of work though, so please consider this me throwing myself on the mercy of my flist -- I need all the help I can get. I do not have a Marketing Jaguar in me, or if I do, she's huddled under the sofa with a perpetually poofy tail, and is generally pretty useless.

Sooo... yeah. There's that.

Anybody doing anything interesting? Wanna brag on yourself a bit? Drop a comment -- tell us all what's awesome about you and your awesomely cool life right now.

This entry was originally posted at http://cluegirl.dreamwidth.org/1474074.html. Please comment there using OpenID.